5 Minute Mama Makeup Routine
Ok - so we mamas know, time to ourselves can be limited. We plan to wake up early in the morning to get up and ready, but that snooze button is just so tempting. We can go to bed early, brew all the coffee, and still were left with kids fingers under the door screaming "mommy I flushed something down the toilet" or you can fill in this morning's blanks.
The answer is a 5 minute morning makeup routine. MOST of us have at least 5 minutes. As a mama of two crazy busy boys, I have been able to CHOOSE to have five minutes to myself to put on some clothes, brush my hair and throw some makeup on my face so I don't scare the outside world. It IS POSSIBLE, even if that means waking up just five minutes earlier than normal. If you are one of those blessed souls who has naturally flawless skin and doesn't have to wear makeup, I'm totally jealous. But for those other mamas like myself who require just a little bit of work, here are the basics and the products I use to make myself less scary for others (lol) and to help make me feel a bit more ready for the day!
First off, splash some cold water on your face to wake yourself up! If you have angel children and have time for skin care in the morning, even better!
Now I am a girl who needs some coverage. My skin is super red so I like to cover decrease that with the glorious drugstore foundation Milani Conceal + Perfect 2 in 1 foundation in colour 03 Light Beige with a damp beauty sponge. I have also been loving the IT Cosmetics Supersize CC+ Cream and the L'Oreal True Match foundation in Creamy Natural C3.
Once all the redness is covered up, I use a light translucent powder to set it in place and use Maybelline Fit Me Matte + Poreless powder which I love because it doesn't feel too cakey. Depending on the time of year, I usually add it to my eye area, around my nose, and in my forehead creases - you know... the creases that form when your mommy mad face comes out.
Brows and Eyes
I don't have a brow product to recommend sadly, I am still on the hunt for a go-to product. If you have any recommendations please leave them in the comments below. Anyway, get those brows done!
Now, I am not an eye shadow person, unless I'm going for a glam look, but lets be real, that is almost never. BUT - here is the trick that saves my puffy swollen overtired eyes every single day - bronzer! Take the bronzer you used on your face or an eyeshadow that looks the same tone and smudge that right up into the crease above your eye. This will immediately make your eyes more defined and make a huge difference! I have been using the Tarte Tartlette Amazonian Clay Matte palette with the colour Wanderer which is very much a bronze colour and it's something I do DAILY. Trust me - try it!
After Foundation
Next I go I in with my favourite bronzer. I go between Amazonian Clay Matte Waterproof Bronzer in Park Avenue Princess and Physicians Formula Murumuru Butter Bronzer depending on my mood - both great choices! I bronze just under my cheek bones, on the top of my forehead, and under my chin to decrease the look of a double chin - this works like magic. Now if you have an extra minute or two, add on some blush and your favourite highlighter, but for the sake of time let's keep moving.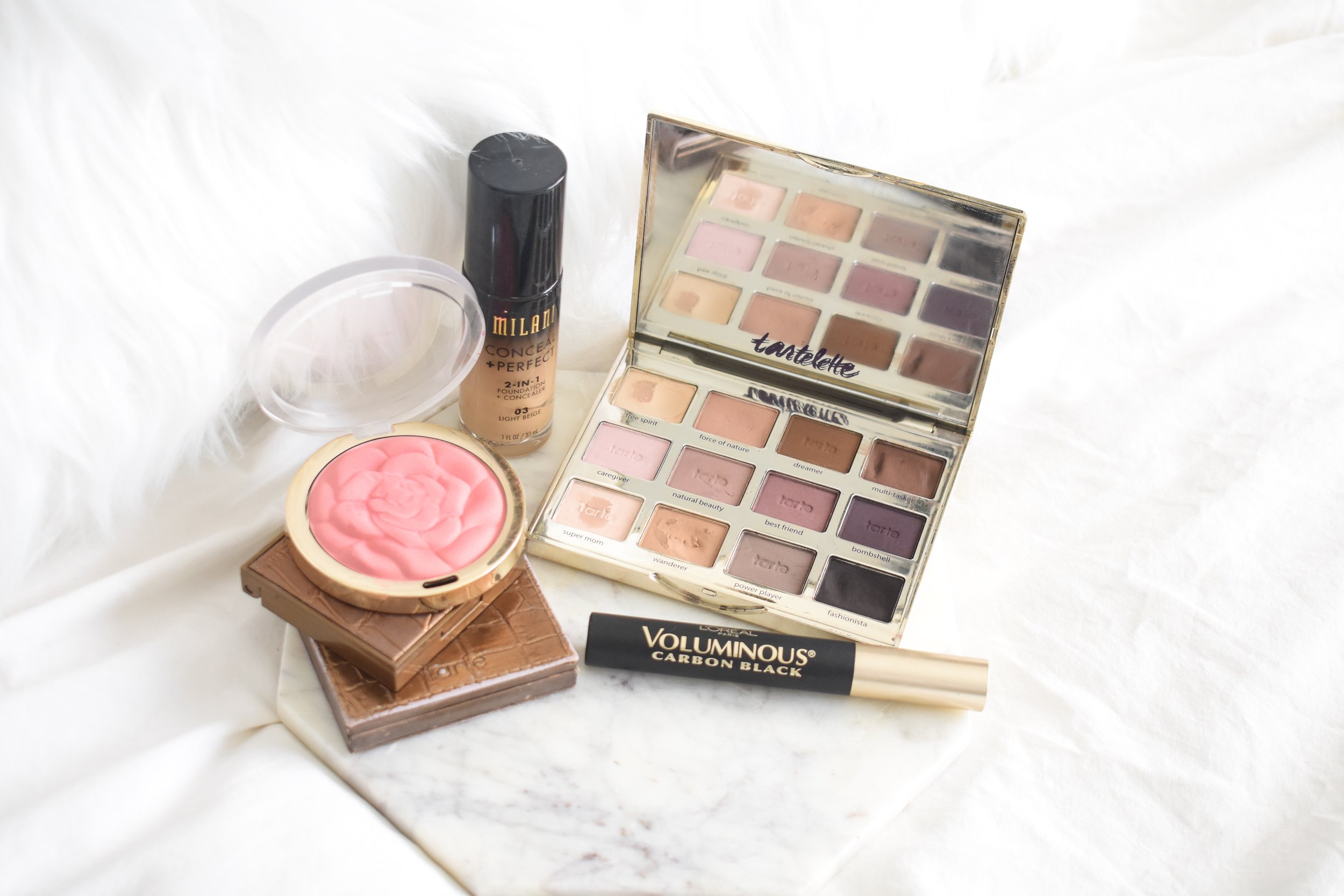 Lastly, because this needs to be kept short, throw on some mascara! My go to drugstore mascara is the L'Oreal Paris Voluminous Original Mascara in Carbon Black and it has not failed me! The wand is the perfect size and you will love it and the price.
And that's it! If you have extra time for eyeshadow, eyeliner or what not, add some extra glam because you deserve it! But if this is all you have time for, at least you feel yourself and that's all that matters!
If you have any quick makeup go to products, comment below and help a mama out because we all need quick ideas and better ways to do things! Give these products and tips a try and let me know what you think!