Back-to-School Outfits with Southcentre Mall
September is officially here and we are in full-blown fall mode! Leaves are falling, pumpkin spice lattes are upon us whether, we like it or not, and the cold autumn chill is in the air here in YYC. And with all these changes come the best part of fall: the back to school season! One of my favourite parts of preparing for back to school is getting Jackson and Maddox all decked out with some new stylin' outfits to kick the year off with. One of my fave places to look for back to school fashion for the boys is Southcentre Mall. It's a quick 10 minute drive from our house and it's got such a great variety of stores for us to find everything we need all in one trip. Plus, they have an Analog Coffee to keep you fueled up so you can shop till you drop (and until you've found everything you need to get the kiddos ready for school).
Southcentre Mall is Our Go-To
Southcentre Mall has become our go-to mall for all our shopping needs, back to school included. We are a quality over quantity family, so we love the great name brands that are available and being able to discover more unique finds at some of the local boutiques that the mall supports. Plus, they keep adding great new stores all the time. Did you know they recently opened an H&M and an Old Navy? I definitely consider Southcentre to be one of the most family-friendly, comfortable and inviting places to shop in the city.
Our Back-To-School Shopping
This year I was really excited to capitalized on the resurgence of '90s fashion. I love that what was in style when I was younger is making a comeback, and that I can share it with my kids. Before we hit the mall, we went through the boys' closets and nailed down that they needed some basics: jackets, shoes and pants without holes (you other boy mamas can relate - no jeans go unscathed, am I right?). Our shopping trip included visits to H&M, Sporting Life, Below The Belt, Hudson's Bay and Old Navy where we were on the hunt for the perfect throwback style The amount of '90s style apparel at Southcentre was MIND BLOWING and inspiring. I found tons of items that were almost identical to what I grew up wearing to elementary school, which secretly made me want to buy grown up sizes to wear myself (even though technically we were shopping for the boys).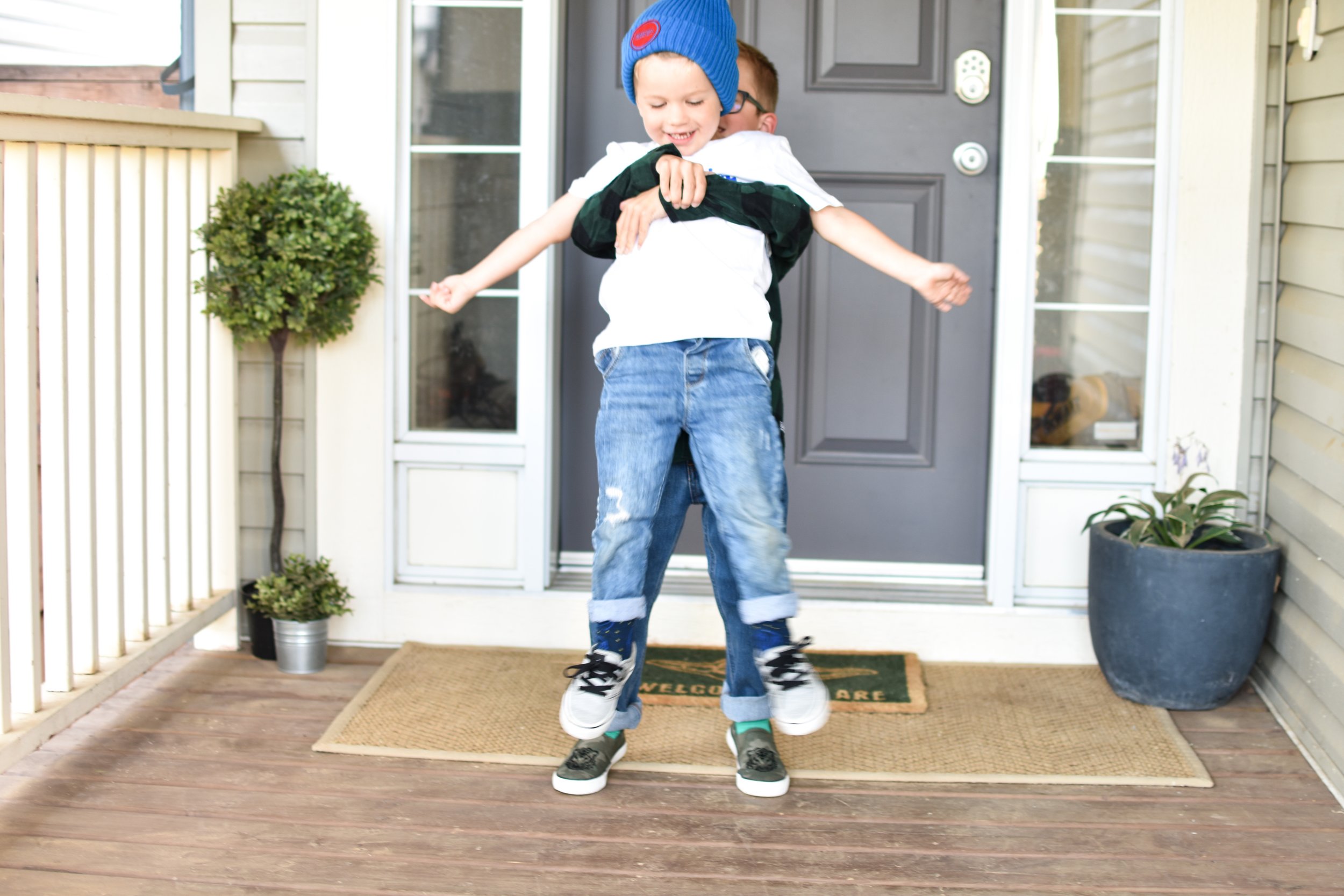 To start, we pulled a bunch of '90s themed items for the boys, including colourful accent socks, acid wash jeans, plaid button-up shirts, FILA, Adidas and Tommy Hilfiger logo tees, and more – all of which were super easy to track down at the mall. There were tons of great denim options too and I was really feeling some Fresh Prince vibes as I styled the boys up in the change rooms. Scrunchies, fanny packs (or crossbody bags as they're trying to pass them off as now), windbreakers, and pretty much anything else '90s you can imagine were so easy to find everywhere we went in the mall. It was easy to see why I left our shopping trip somehow even more obsessed with '90s fashion that I was before we went. It's definitely a decade that's easy to love and I couldn't be more excited to pass some of my favourite style inspirations on to my boys.
There were so many options for getting the boys back to school ready at Southcentre and it was a blast reliving my childhood style goals with them. It was hard not to leave with a bag full of scrunchies for myself in tow, but in the end, we ended up finding everything they needed to feel confident heading into the school year. Seeing my kiddos in what I grew up in is awesome, and I highly recommend Southcentre Mall for all of your back-to-school needs!