My Current Hair Routine
Ok, this one is my most HIGHLY REQUESTED blog post topics - my current hair routine. Yes, I currently have long, healthy black hair that I love and am proud of, however it has not always been this way. I started colouring my hair when I was about 14 years old, adding highlights which back then was a huge deal. I cleaned a hair salon which as a bonus would colour my hair once every few months, which looked gorgeous! I then entered a year of hair school in my last year of high school, and it went all downhill from there. I ended up with over processed bleached out hair which turned yellow, cut it all off, coloured it dark to hide the yellow which turned my hair green...this is not where the story ends, but for the sake of this blog length I' cut it off there. My hair has been through quite the journey, so having long healthy hair is something that is important to me. 
Living in a super dry climate here in Calgary, it really helps to keep my hair from getting too oily or frizzy, and I've noticed that a lot more just coming home from humid Vancouver! I generally wash my hair twice a week, depending on workouts, hot steamy baths and photoshoots during the week! I do try to go as long as possible between washes to make sure I'm not over cleaning my hair! I also try to shower in the AM, as I do not typically blow-dry my hair. I found using a  blow dryer was way worse for my hair than any other heat tool - has anyone else found that? The amount of breakage I get from a blow dryer is insane! So, I am lucky enough/cursed to have STRAIGHT hair, so usually this is no issue.
I have shared with you guys before, I used to not be able to keep ANY sort of curl or wave in my hair, until I discovered this curling wand from Sephora with a titanium wand! The coated ones are probably better for you hair, but its not when I have to recurl it 100 times over!
Now, lets talk product. We all know that I love trying new products - hair, skin, you name it! However, I have found two brands that are now my go-to's and holy grail products, shampoo & conditioner, and after wash styling products! These both happen to be local Canadian, actually Calgary based, which makes my heart even happier! EVEN BETTER - The shampoo and conditioner brand I use is all about non-waste and sustainability!!! Does it get any better? Am I annoying you yet? Ok, lets dive in!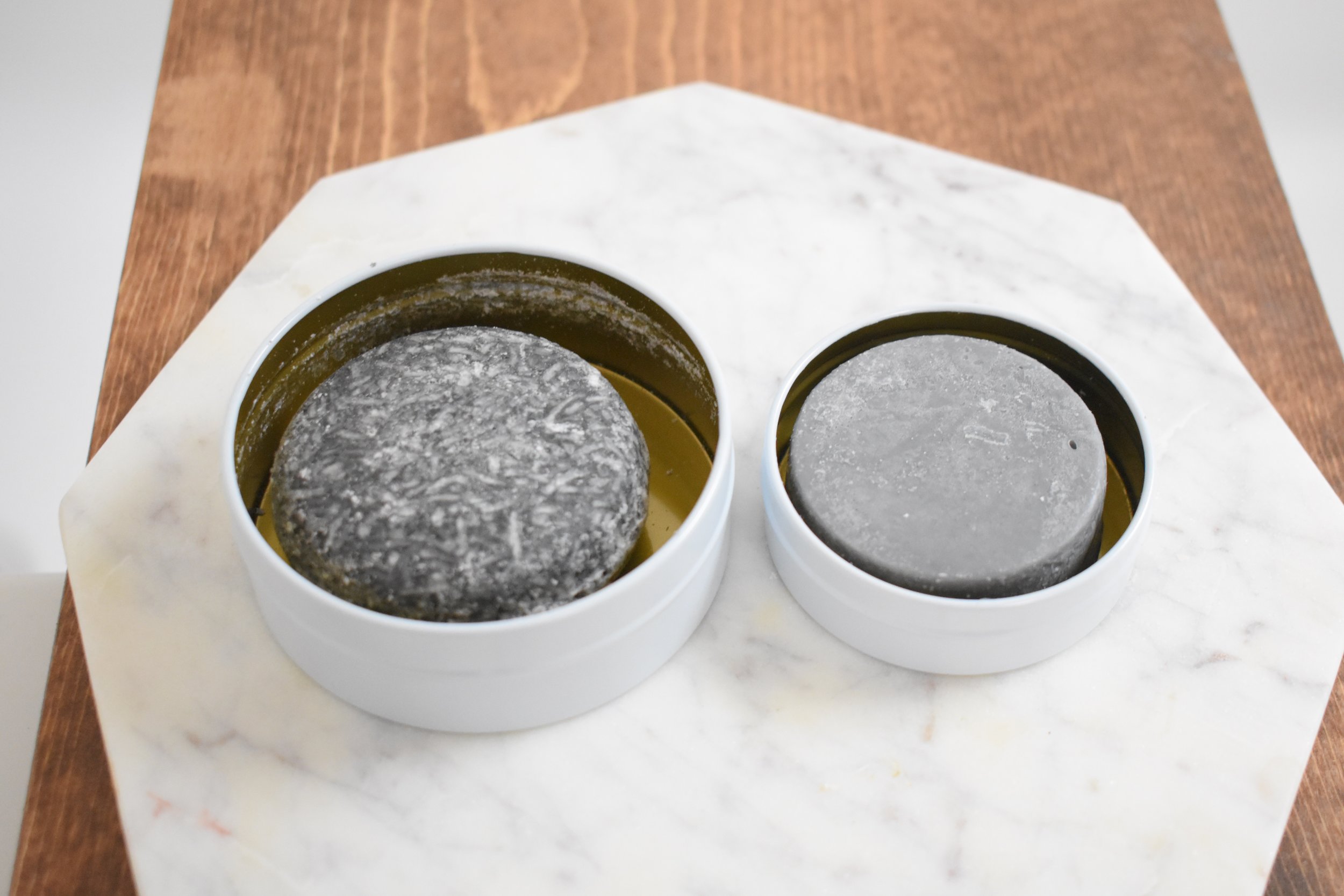 Now, this is completely not sponsored, this is 100% my opinion and honestly what I use - ask anyone I know! I've probably already talked their ears off about it!
Unwrapped Life entered my life late last year. A local company reached out to me and asked if they could send me some product to try out, they did, and it sat in my beauty drawer for a few solid months. Why? I will never understand. When I tried using the shampoo and conditioner bars for the first time, I'm not going to lie, I was a little... uneasy. I had only used liquid products EVER to that point so this bar was a little new for me. I wasn't sure how it would actually coat all my hair, how it would rinse out, etc. O.M.G. Life changing!! The texture of my hair after washing with Unwrapped Life products is unbeatable, and my hair has been drastically different ever since I made the switch. Yes, I use other products from time to time, I am a junkie remember? But nothing I have found can beat the result I get from using the bars. Funny story time: I used a different shampoo for a few washes, and my Hubs actually asked me what happened to my hair!!! Even he noticed the difference!!
I have been using their Stimulator line, but I am now trying out different ones and I love them all the same! If you would like to check them out for yourself here is their IG @unwrappedlife or check out their website here.
Sorry guys - this is getting lengthy! Can you tell this topic is just so close to my heart???
As for post-wash products, I use a few quick things that make such a difference to my oh-so-tangled mat of hair after washing. No matter what product, it won't change the fact that I have A TON of really thin hair that likes to wrap around everything and tangle into a huge nasty ball. Much like how I found my washing products, I had a local company reach out to me on IG and ask to send me a few products and once again, I found a holy grail brand. Kytika products gives you quality and longevity that I have never found elsewhere. I use their Shine and Protect Spray for heat protection which I spray in wet hair before air drying, I have used this after every wash for months and I am only half way through the bottle. Once my hair has either dried straight, flat ironed or my favourite, curled, I use Soft & Sleek to bring down any loose bits, bring it all together or perfect those curls without my hair feeling oily or weighed down! Seriously - just go try it! Their IG is @kytikaluxury or you can find their website here.
I try and change up how often I leave my hair straight and curled! I find when I have curls I can go longer between washes, and I love me a good wave after day 3! 
I hope this has answered all of your questions! If there is anything I am missing leave a comment below and I'll answer as best I can! I have a bit of a hair cut phobia from some bad experiences so I don't get a trim as often as I should, but I am getting better! I also colour my hair every 4-6 weeks at home... all your hair dressers can virtually slap my wrist haha! 
Again, I am no pro, but this is what's working for me and I am so happy finally finding some AMAZING products! This product junkie is happy as can be :)