All About My Tattoos!
I have had SO many questions about my tattoos. How many I have, what are they of, and what do they mean! Not all of my tattoos have meaning but some have more meaning and sentimentality than I can fully explain in words.
Disclaimer: I realize not everyone is pro-tattoo and some close family members (hi, mom) may not even know about all of these tattoos! If you are anti-tattoo or are my mother(again, hi mom!) you are free to exit out of this blog post!
My very first tattoo was done in Vancouver, BC while I lived there for one final week before going off to Colorado for bible school! I was a badass quite clearly and I wanted to go there with a tattoo! So my best friend and I went to the cheapest tattoo shop we could find and sat through an extremely painful experience as I chose over the bone on my ankle and she chose her foot. Safe to say this is my LEAST favorite tattoo and if you know me in person, you probably don't even know its there!
Next up was my ribs! I got the bible quote "For by grace we are saved by faith" written in cursive on my lower ribs. Since this was my second tattoo I was quite timid and wanted it small - if I was to do it over I would get it bigger but they say the ribs are super painful, and it was so easy!
I had found out I was pregnant in May 2015 and by August my grandma who had lived with us since I could remember passed away. I remember the day like it was yesterday, my mom going to check on her downstairs to find her gone and screaming up for me and my dad. The experience is something I carry with me always, but the reminder of how she went through three bouts of cancer and still stayed the most positive woman I will ever meet just amazes me to this day. My husband and I spent hours searching through her MASSIVE filing cabinet of "special things" and for my third tattoo got in her handwriting the word "strength" on my wrist.
The next few tattoos are less intense, I got a flower on the back of my left arm, and the flower half sleeve you have probably seen in a lot of my photos!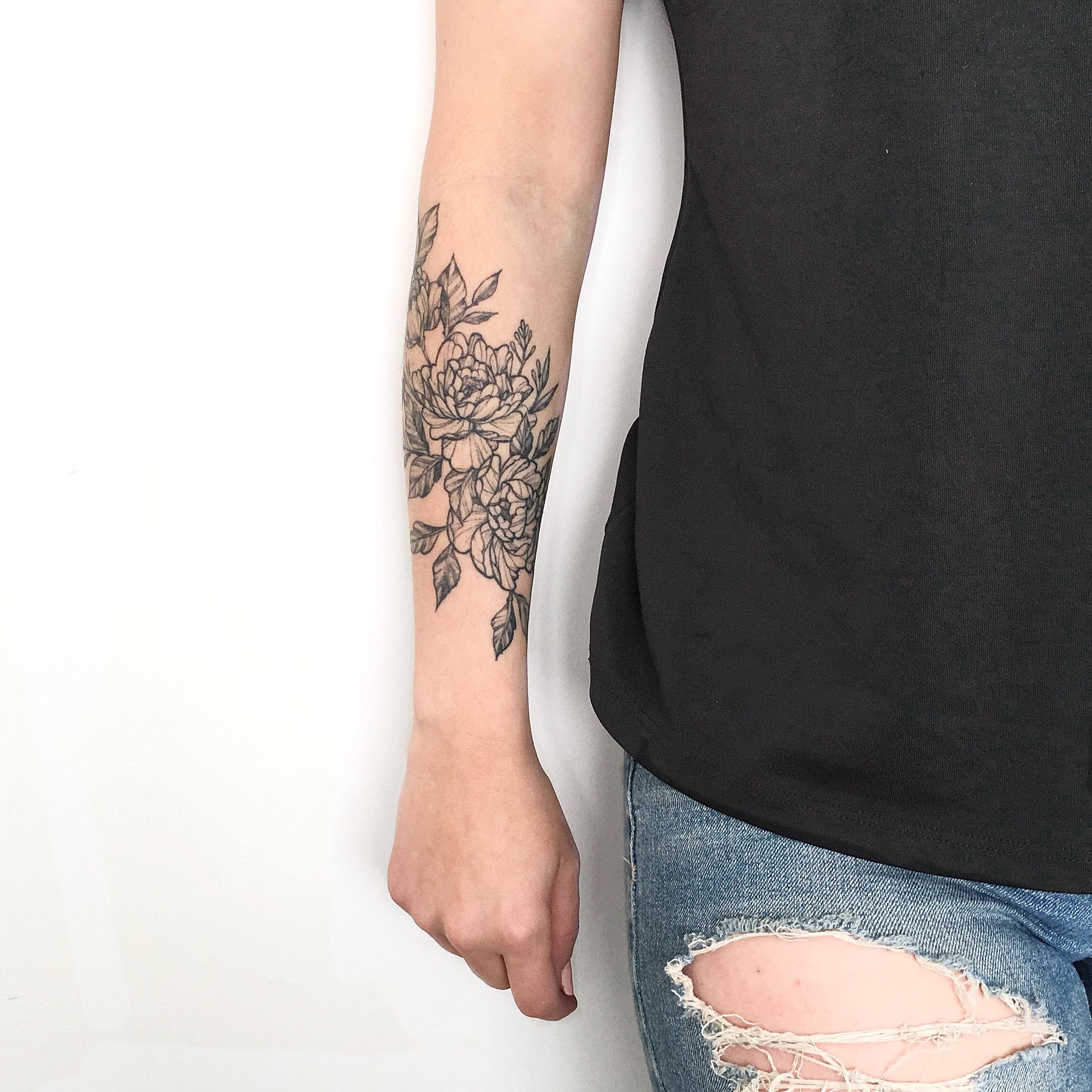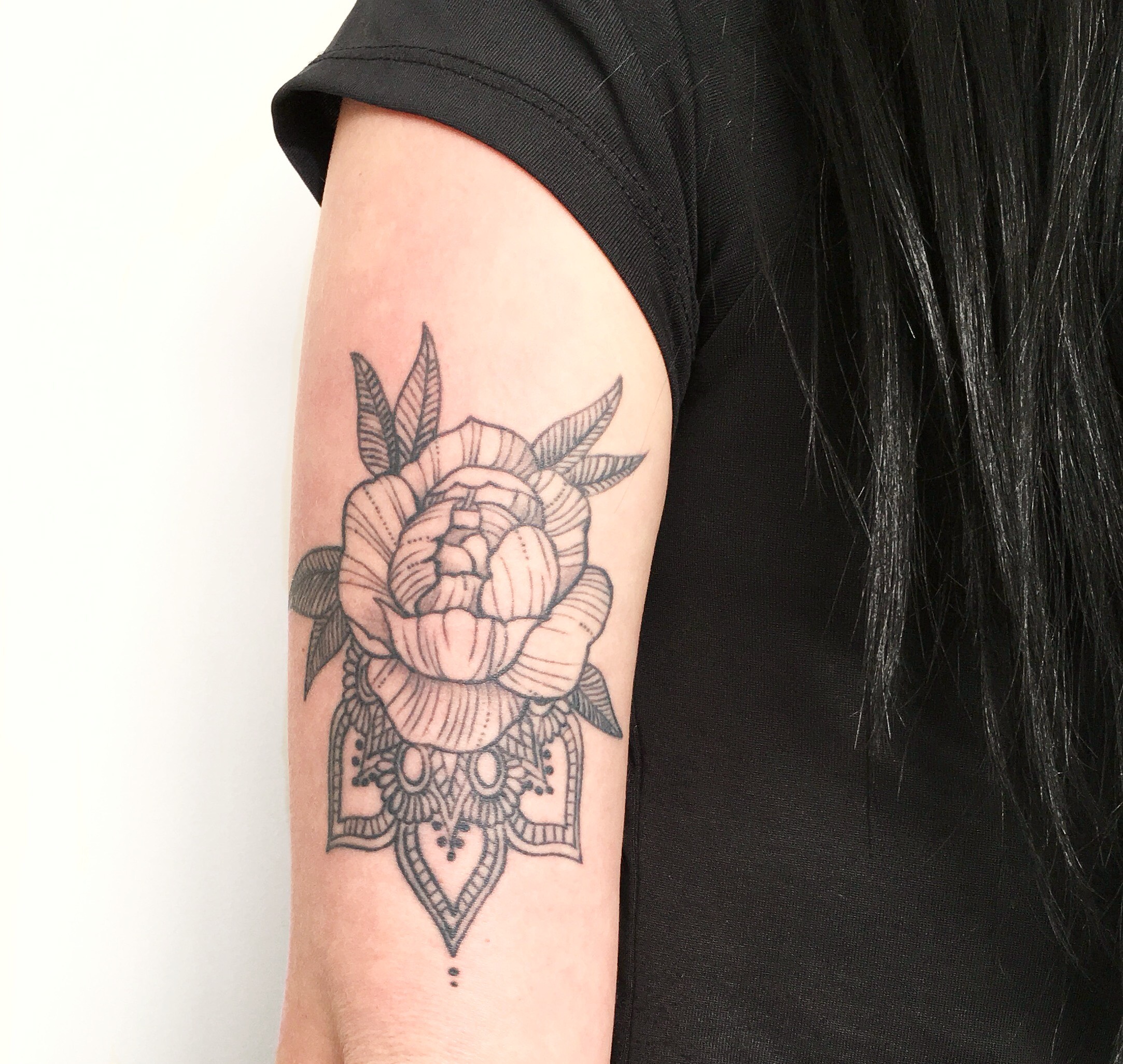 Something I have never talked about on social media is that I tragically lost my sister in law in December of last year. I'm not going to go into details but it left me shattered to my inner core and for the last year have had to struggle through it. I will not discuss this over social media, but let this be a reminder to you that people always have something going on that you may not know of, so be kind and gracious always :) Anyway, in that brutal time where I didn't have the strength for anything, I got "You never know how strong you are until being strong is the only choice you have" with flowers tattooed on my right hip. These flowers were also on the tattoo sleeve she had on her arm. This hurt. Just saying. Hip bones - not pleasant.
My most recent tattoo I just got last month and by far my largest! Again, because I am so hardcore (lol), I got a giant dragon on my side going from mid-thigh to the bottom of my rib tattoo!! Once its healed I'll post a photo (sorry, mom). It is by far my favourite piece done by a local artist!
I have plans for a few more... Hubs says I'll be covered by the time I'm 35! I just have plans for one...maybe five more!