February Favourites - My Favourite Makeup Products
I get asked about makeup and skin care more than anything else on my feed, and as much as I am NOT a beauty guru or professional, I am so thankful to have found a MOSTLY inexpensive foolproof product for my skin combination and that people are actually noticing how well it sits on my skin! I would honestly love to spend hundreds of dollars on makeup and tools, however, no matter what I pay, I get this sinking feeling in my gut wiping it off my face at the end of the night. Skincare is worth investing in 100%, makeup adds no value to your skin and gets rinsed down the drain. I will invest in an item or two if its THAT GOOD, but otherwise here are a few decently priced items that I use most consistently and love!
When it all comes down to it, skincare is about 90% of any makeup application (in my opinion) so make sure you're starting with a fresh, clean and moisturized face. If you're curious what skincare I use, click here to check out my latest skincare post! I honestly don't use primer, I probably should, but it's just not a thing I reach for. I use my recently moisturized skin to keep my foundation on and secure!
Concealer
Ok, I'm not going to lie - I wear concealer like NEVER! I have quite even skin and few wrinkles and scars, however, the few wrinkles I do have are just under my eyes and I feel like concealer is just adding to the issue. I do find for photoshoots I add a bit of Maybelline Instant Age Rewind Eraser Dark Circle in fair which helps to brighten my face, but I haven't been that convinced that it does more good than harm to my issues.
HOWEVER - I recently took a trip to Vancouver and attended an all-girl 30th birthday party where we all spent hours getting ready together (I took 10 min… #momlife am I right?) but I was TOLD I had to wear concealer, and what my friend put on my face was a game changer. So she cleaned off my under eye and moisturized, and put on Tarte Creaseless Under Eye Concealer in B10 and set it with Nars Light Reflecting Pressed Setting Powder and OH MY GOSH. I've found products to invest in, you guys, just go get those two. They are a combo made in dark circle heaven, let me tell you!
Foundations
If I had to pick just one product to wear on my face, foundation would be it, unless I'm in Mexico and rocking a nice tan! Foundation is what I'm most picky about, and I've had some trial and error experiences with some. I haven't gone out and spent a ton on foundation, I'm sure there are some great high-end ones out there, but I"ll just list a few below as my go-to's.
So my EVERYDAY foundation is no other than L'Oreal Paris True Match Foundation in the shade C3. I went back and forth for a while with the Milani 2 in 1 foundation which is also great, but a lot thicker. I still have a nice tan from our Mexico trip and am LOVING the consistency of the L'Oreal foundation and how it sits! On photoshoot days I add a dab of Mac Studio Sculpt Foundation in NW30 which darkens it a bit and makes it thicker, which honestly perfects the look, but not needed on an every day basis!
Others I love for weddings and really special events I would recommend splurging for Make Up Forever Ultra HD Invisible Cover Foundation. I get it put on my face at every wedding I've been involved in, I used it on my sister for her wedding, it is flawless and perfect - I just can't spend that much for every day makeup, sorry!
My overall FAVE FOUNDATION COMBO:
Dab of Mac Studio Sculpt in NW30
Powder
I know everyone and their dog uses Laura Mercier Translucent Loose Setting Powder, I have yet to try it out. Again, I'm a basic gal, and this Maybaline New York Fit Me Matte Plus Poreless Powder works wonders for me! Keeps it set but doesn't sit like cake on my face - Go spend the $10 and let me know what you think!
Now bronzers - ohhhhh do I love a good bronzer. Its pretty much up there with foundation, a good bronzer makes or breaks a look. My all time, go to, perfect bronzer is no other than the Benefit Hoola Bronzer - just go buy it. The Physicians Formula Murumuru Butter Bronzer is great and smells amazing, the Tarte Park Ave Princess™ Limited Edition Amazonian Clay is great too, but nothing compares to good old Hoola. The shade is so perfect for contouring and it doesn't look too much on your face! You will love it, trust me.
I'm going to be honest with you, I really don't wear blush. Maybe I will when I'm older, I've just always had such a red skintone that adding more pink to my face makes me not so happy. However, if I am to suggest one, I would suggest the Milani Powder Blush in Tea Rose. Great shade, doesn't come off too pink and adds a nice touch to a glam look.
Highlights are such a fad right now but a fad I LOVE. Some I have tried from the drugstore come off super chunky and glittery if you've found an inexpensive one please comment below and let me know! My go-to highlight powder is and you can beat the Benefit Watt's Up! Cream-to-Powder Highlighter that rolls right on like glitter glue.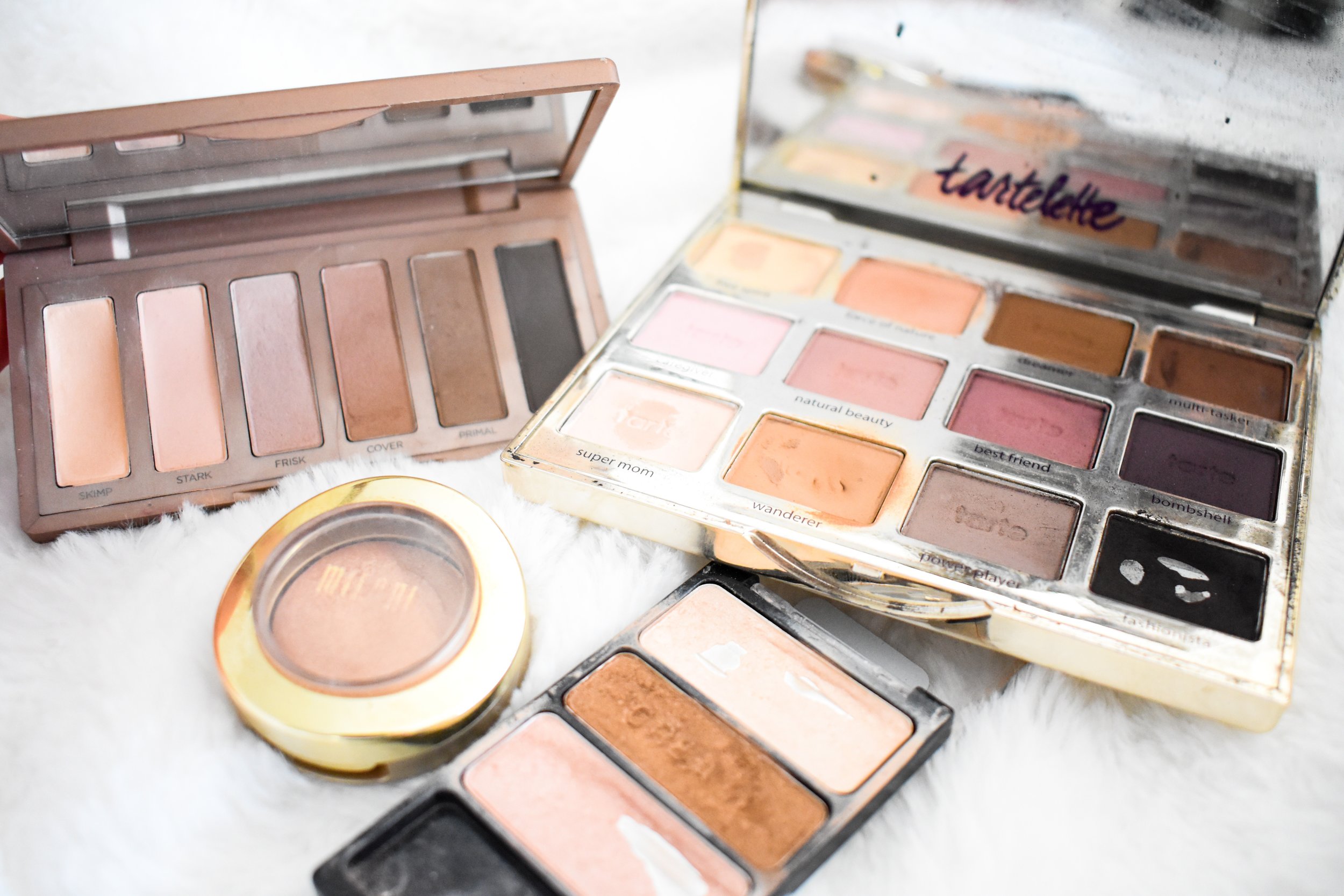 As for Mascara, I have been temporarily addicted to lash extensions, bad I know, so I am using less mascara these days. I did LOVE the L'Oreal Paris Voluminous Original Mascara until they went and changed the want do a curved wand, which I am still not pleased about. So if you know of a great mascara, let me know!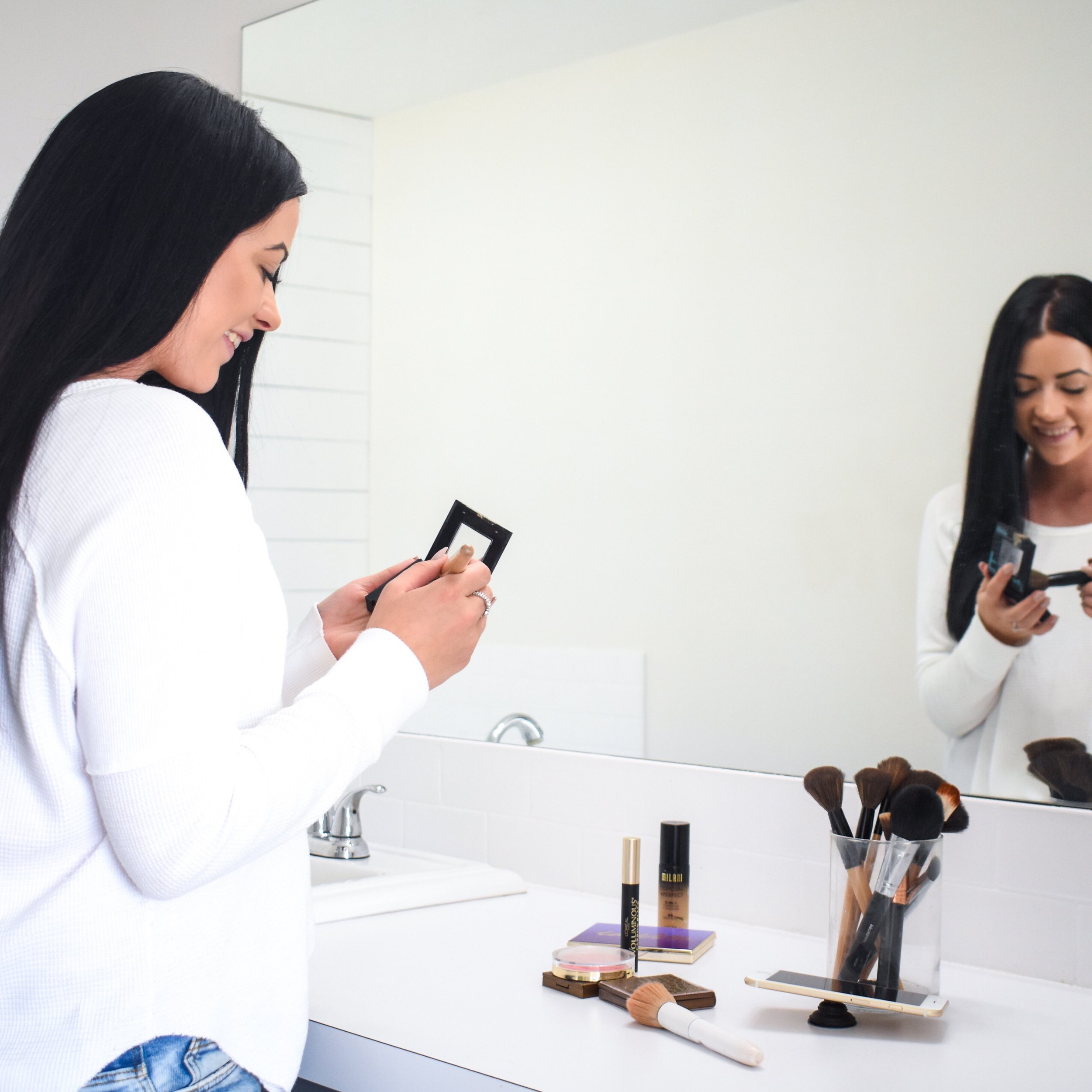 And that about wraps it up I think! If I'm going out I'll top it off with a few squirts of Urban Decay All Nighter Long-Lasting Makeup Setting Spray and call it a day! These products are my every day faves and I am thankful for how well they sit on my face and last throughout the day! Comment below what your fave makeup products are!