Our Trip to Mexico
So if you've been following along with my IG, you will know we just got back from a trip to Mexico and boy - was it one for the books! I had a goal going down south to push myself to do things I was scared to do, and to leave without regrets. I pushed, challenged and improved myself and I have never been more proud of my accomplishments (other than when I gave birth to my two beautiful babies of course!)
We left our kiddos behind with my parents and cousin and took off for a week with a beautiful resort booked! We went down with my brother-in-law Chris and nephews and had a plan to spend the week relaxing on the beach, drinking all the margaritas, and we did do that. However, we also did some adventuring that I typically would be too scared to do.
The first two days Hubs and I spent relaxing, unwinding and sunburning despite the 50spf - go figure! My brother-in-law decided the second day to rent a car and go exploring the area, driving in Mexico was not something I was excited to do so we opted out. If you have been down there it seems like their road systems are total chaos. So hubs and I spent the day together at the resort, eating all the food and again drinking all the margaritas. When Chris returned late on day 2 he was so happy with his discoveries for the day we decided to rent the car again the next day.
We woke up to torrential down-pouring rain which flooded the streets to the point where I was unsure the car would make it through. Our first stop was Ecopark Kantun-Chi - WOW. We arrived a little unsure of our decision until we pulled up to a beautiful park regardless of the monsoon rain. We talked to the front desk staff and we had two options - a guided tour of the underground caves and swim in the above ground cenotes or just go swimming with no tour. We decided that for the price we may as well do the full tour with cenote swimming afterwards. I am SO CLAUSTROPHOBIC you guys, my hubby said: "…you know it's going to be an hour underground right?" I was unsure, but I said let's go for it. If you are down in the Mayan Riviera area, this is a must see. I climbed down the hole and spent the next hour experiencing and pushing my comfort level surrounded by fish, bats and dark small places and absolutely loved it.
Here are a few of the shots of the other cenotes at the same park - some of the most beautiful sights I have ever seen.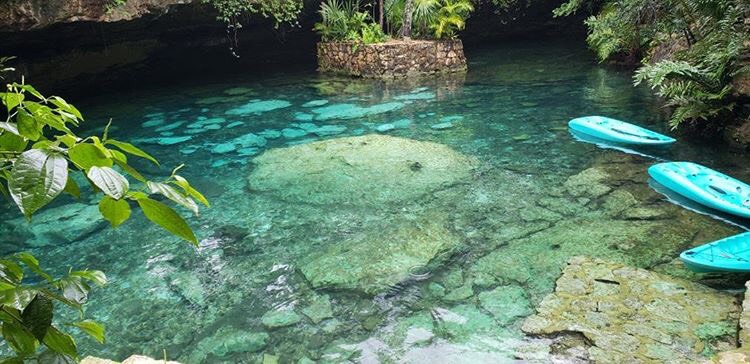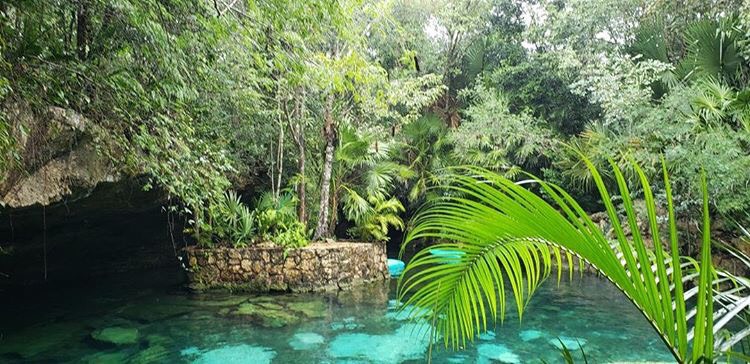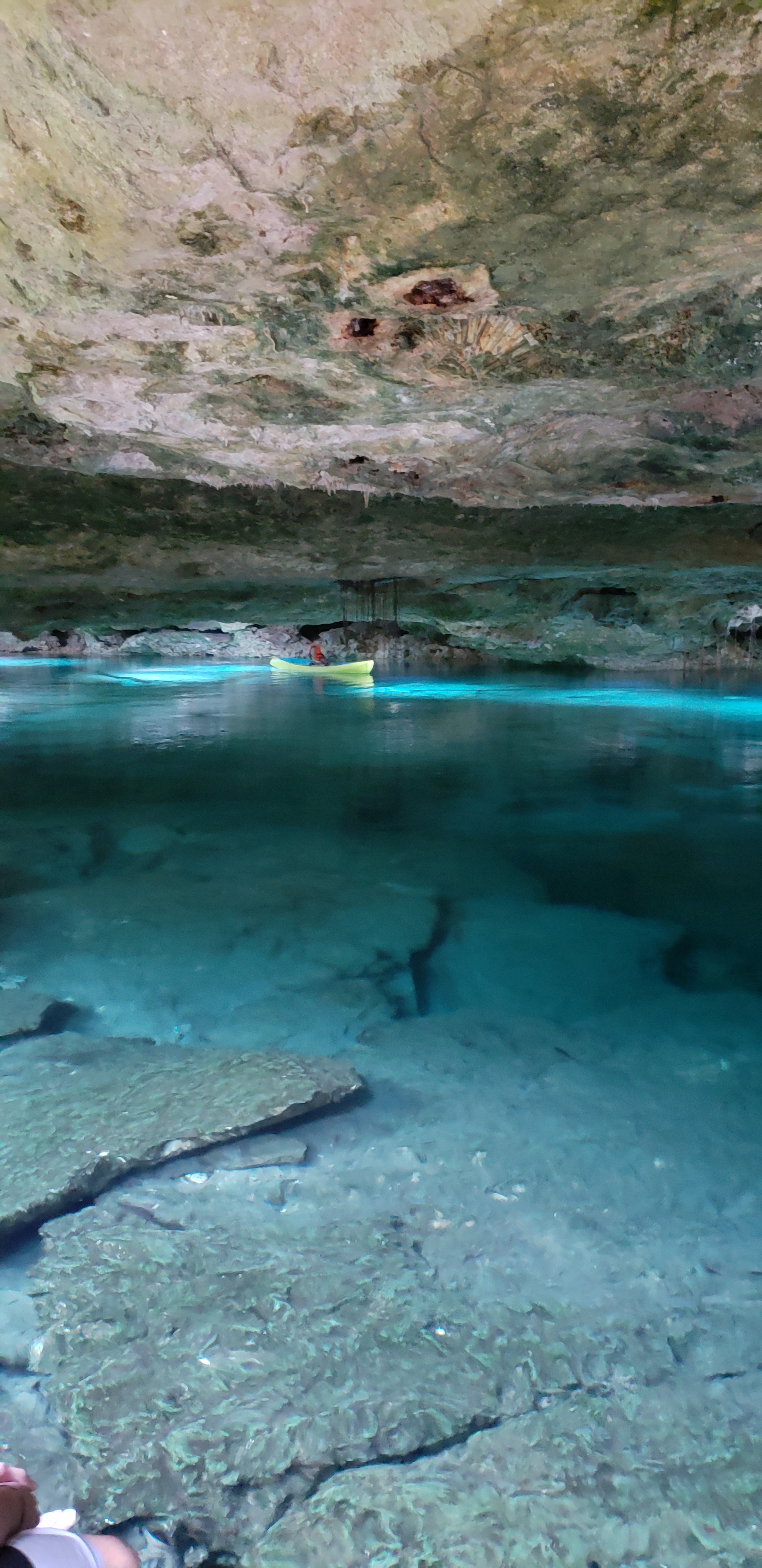 Absolutely unbeatable views and experiences. Afterwards, we headed to a restaurant in Playa del Carmen that was recommended to us called Los Hijos del Mar and OH MY GOSH. I can honestly say that was the most fun and delicious food experience of my life to date. The entire menu was in Spanish so instead of trying to read through all of it, the server told us he would order for us and he NAILED IT! I tried octopus for the first time, Ceviche, raw fish, tostadas and they were all HEAVENLY.
We had so much fun exploring the cenotes that we decided to extend the car rental and find a few more. There are SO MANY in that area, but we wanted to try the not so touristy ones so they would be less busy, and doing a ton of tourist attraction stuff drives me absolutely insane haha! A few of us wanted to check out the Mayan ruins in Tulum so we headed south to check them out and discovered the most beautiful beach! I would love to stay in Tulum, I just have NEVER seen so many tourists in one small area with basically no locals! Not really my thing, but absolutely stunning!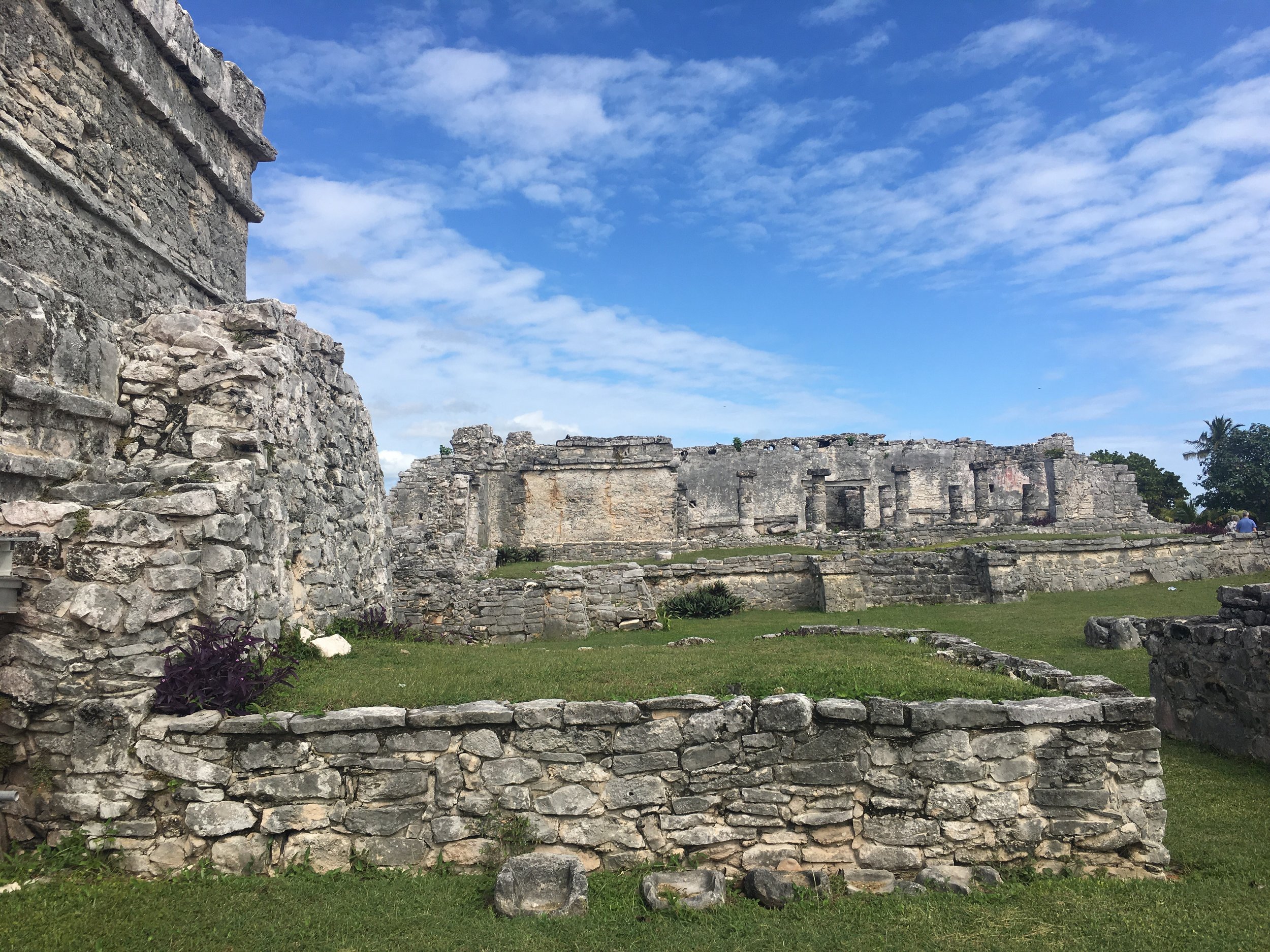 Once we were finished in Tulum, we went to find a cenote my BIL looked up called Cenote Calavera(Skull Cenote) which didn't look super touristy but still gorgeous! It was a partially covered cenote that had one huge hole(the mouth) and two small holes(the eyes) you could jump through! Everyone had the best time here, and I even mustered up the courage to jump in twice because I wanted to be sure not to leave with any regrets! Go me!
I am so beyond grateful for all the things we got to do and the opportunities we took advantage of despite a bit of nervousness from me. On top of everything else, I wore a bikini for the first time since I had Jackson!! You guys, this is such a huge deal with me as I have always been so self-conscious about my stomach and my stretch marks. I know I should just embrace my body, but it's not always that easy! Being self-conscious sucks and its something I have struggled with for so many years, but I'm sick of always covering up wondering if anyone would really care so I just stopped caring and rocked it! Any other mamas with me?
We had the BEST time and already I'm trying to find cuts in our budget so we can travel more often. I am currently writing this on about an hours sleep after our red-eye flight, but it was a trip I will never forget for the rest of my life and I can't wait to keep pushing my anxieties to the side to get the most out of this beautiful world we live in!