My Birth Story - The Arrival of the Chunks
I told myself that when I started this blog, I would never write this. No offense to anyone out there, but I don't personally read these blog posts myself. I personally find labour something that just comes along with having a baby. Some find it a beautiful thing, where I find the baby a beautiful thing and labour just a means to an end. Whichever way you think about it, having a baby is a beautiful thing and I have had two beautiful births, not perfect but almost. So if you're curious about how these chunky kids came to be, keep on reading!
Jackson Cole
I will never forget going into labour for the first time. I was up at 4 am with cramps which were odd since I had NOTHING leading up to it. I was working full time at an Orthopaedic surgeon's office and ran around like a crazy person constantly so I often never noticed any slight discomforts if I had any. I sat on the couch as Hubs kept looking at me and asking if I was ok. I assured him it was probably nothing (I was four days late) and told him to go to work. He had to train to get downtown for work so this was a bold move on my part! About an hour in my contractions were nine minutes apart so he turned around and quickly made his way home. Around the six-minute mark, we made our way to my doctor who was on her way out of town for the weekend for a family funeral and confirmed I was dilated 3cm. Awesome timing, my dear boy.  THANKFULLY my mama worked for my doctor for twenty years and had made some pretty amazing connections, so this other phenomenal doctor we knew came in on her day off to deliver my baby boy... I am blessed beyond words.
I arrive at the hospital with my contractions three minutes apart and INTENSE. I went from zero to a hundred SUPER quick and by the time I was gowned up and in the hospital bed I couldn't find a space between my contractions to breathe. The lovely nurse (I say that with severe sarcasm) tried to force laughing gas in my face which made my contractions worse for some reason... Paul may have stepped in at this point! I started to beg for an epidural as the pain was out of control, felt like he was trying to make his appearance before my body was ready.
Well, the epidural finally kicked in and then everything completely stopped... the pain and the progress. 24 hours later my body had sat at 9cm for over three hours and nothing was moving. It was like my body had given up. I also started to hyperventilate without knowing it... this is why you get a good doctor folks! She knew before I had any idea. Paul nicely ate my hospital food in front of me as I laboured for hours and hours... glad someone wasn't hungry! I had two options - a C section or being induced at 9cm. Neither option was wonderful but I chose the second. Suddenly we were on the move and began to push, but this is where things got a tad scary.
The heart monitor kept going silent. We moved it around in case it was a bad placement, but his heart kept stopping. Getting the little guy out was getting more intense and it needed to happen NOW! I don't know if you've seen Jackson's head size (off the charts as a newborn) this was no easy task.  At long last, he arrived safely with the cord wrapped around his neck. He weighed 8lbs 5oz and was 21.5" long, this huge headed Chunk made me a mom after 26 long hours and was greeted by my amazing parents and sister who waited the ENTIRE TIME at the hospital.... guys, that's love.
Maddox Holden
OH, Maddox... my little bubs. This little guy from pregnancy on has been an adventure. If I had to describe Maddox's delivery with one word, that word would be hell. Sorry, it's true. Maddox's pregnancy was a breeze until the last few weeks. I was SICK of being fat, he's a July baby so I was HOT and away from my mama and family who could help, and it was a rough go. My brother and future sister-in-law were coming out just past my due date and I thought FOR SURE I would be earlier than I was with Jack, as the doctors kept telling me "he's low... you go into labour you run to the hospital". I'll insert a beautiful and sweaty pregnancy photo of me here so you can see how large and in charge I was with this Summer dude. No mom judgment ok? That stuff is for less cool people. I'm also digging deep into the IG archives for this one.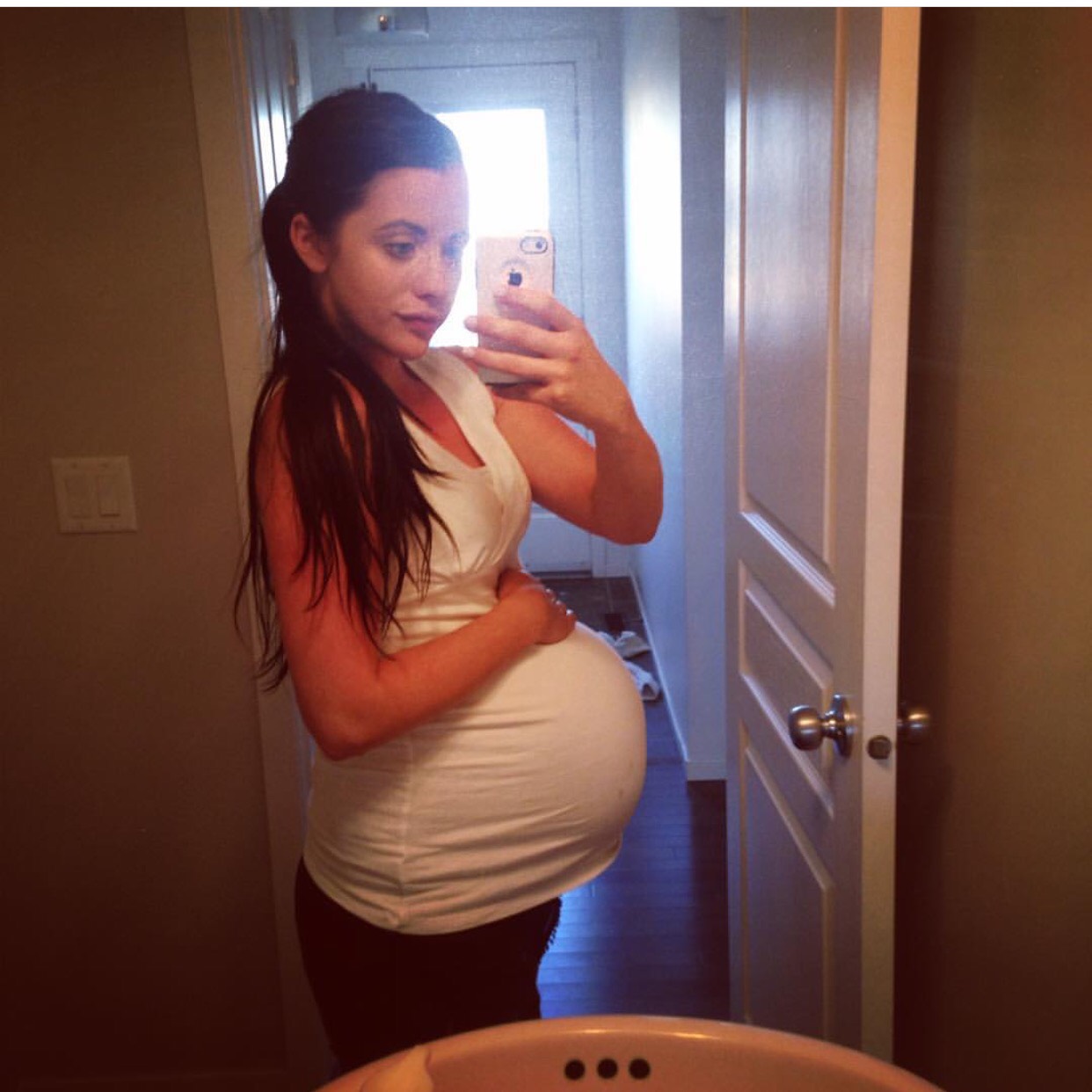 So as usual, my family placed bets on when this wonderful human being would arrive. My mom won. Four days late, I'm traveling across the city with my little bro to the outlet mall where I have severe contractions for hours. I remember having to pull over (because I felt like a truck.... anyone else?) and having to breathe through it. We came home and I hosted a large cousins gathering where we bet when the baby would arrive....all the while I had contractions - I hid it well, ok? I'm quite competitive.
3 AM I wake up. I'm diving straight into intense labour, and I'll never forget trying to wake up my baby brother on the couch asking him if he's ok to watch Jack because I'm needing to go to the hospital. To this day, I don't think he remembers the event but I remember him asking if I was ok as I stood hunched over by the door asking if he would be ok to watch my two-year-old.
We drove quite quickly to the hospital, and I remember asking Paul what we would have done if my brother wasn't visiting at the time!! Jackson would have had quite the sleep at the hospital! We pull up to emergency and I refuse to get out, as I had been there before. A few weeks earlier I was sent to the hospital in a panic as the doctor couldn't find Maddox's heartbeat. I will never forget that feeling to this day, the severe panic driving in and thinking that I probably should not be behind the wheel in such a panic attack. But because of this, I knew where to go and STUBBORN ME would not take the emergency room as an answer. I CRAWLED into the maternity clinic and was wheeled straight in for delivery!
To this day I can recall everything. Begging for an epidural and the nurses promising me he was coming (he wasn't) and me telling Paul I couldn't do it (I could) and suddenly they were telling me I had to push my hardest because his heartbeat was gone. Long story short, the next few minutes included a vacuum which they don't usually do without drugs and HELLO baby Maddox was born! And again, cord wrapped around the neck.
Maddox was born a whole 8lbs 21" long and his head was a TEENY bit smaller than Jacksons! I recovered SO MUCH FASTER with Maddox as I didn't have near the same amount of drugs and delivered Maddox in under two hours from start to finish.
I do not mean to make Hubs look bad - he is the GREATEST HUSBAND AND FATHER EVER. Ever. But after pushing a baby out of my body with ZERO painkillers, he says "It must feel like doing crunches all day"... LADIES. God must have been holding me back from my fist going through his face. I feel like to this day he's still working off that comment and paying for it. But we have two beautiful sons we love and if it wasn't so brutal attempting to conceive and going through pregnancy maybe we'd have more, but I digress. Two Chunks are the perfect amount for us and we have the best family I could ever ask for.