Island Lake Lodge Weekend Getaway
Island Lake Lodge - a place where we felt like we drove up to, and landed inside a magical world of nature. Many times over our stay I said to Paul that I felt like we were in a different world, and I couldn't believe we were experiencing nature like this. Prepare yourself for incredible photos ahead(I have about 10,000 more on my computer), but let me take you through my favourite highlights of the weekend. There was beauty we couldn't hope to capture the intensity of on camera but I will attempt to briefly touch on the incredible weekend we had. I had never been to Fernie before, driven through but never explored, but I somehow knew being in the mountains would provide an endless change in weather, and was I ever right. I think we experienced every season in the two-night stay, and each one providing incredible experiences and views of this mountain haven located in Fernie, British Columbia.
Driving up to Island Lake Lodge in Summer is an experience in itself. As you drive up the 7km of winding backcountry road, you already feel like you are heading towards a secret hidden oasis in the mountains. On the drive up we met a moose on the road, introducing us to the wild weekend we had for us ahead.
Our Lodging
There are three beautiful lodging options on the breathtaking property, each as gorgeous as the last, and we had the opportunity to stay in the Red Eagle Lodge with a beautiful rustic theme and gorgeous views out our window. Each lodge has an incredible sauna, mountain views and will make you never want to leave. The Tamarack Lodge has an incredible Tamarack Dining Room located on the main floor, with mouth-watering culinary options that will linger in your mind for days to come, and I dare you to try and find a more beautiful spot for your morning coffee. Next door to the Tamarack is the Bear Lodge Bistro which has a massive patio with unbeatable views and one of the best soup and sandwich combos I've found. We mentioned many times during the weekend how shocked we were at how friendly and inviting every single staff member was, from the front desk to servers to groundskeepers to the spa, each person we talked to made our experience all the better.
We arrived Friday evening, had a chance to check in to our room, freshen up after our short and beautiful less than three-hour drive from Calgary, and headed off to dinner at the Tamarack Dining Room. Paul had the Bison Shortribs and I ordered the Arctic Char (I will attach the dinner menu here) and all I can say is I will be back and ordering that again because WOW. We finished off the evening with a walk down to the lake (I was praying I would see a moose again, stay tuned for that ongoing adventure), sat and enjoyed the evening stillness before heading to our room. With a bottle of wine to share we relaxed before enjoying a comfortable and refreshing sleep, planning to wake up early and take a canoe ride in search for the moose I heard drank from the lake in the early hours of the day. I had no idea what was in store for our second day, but day one was definitely a promising start!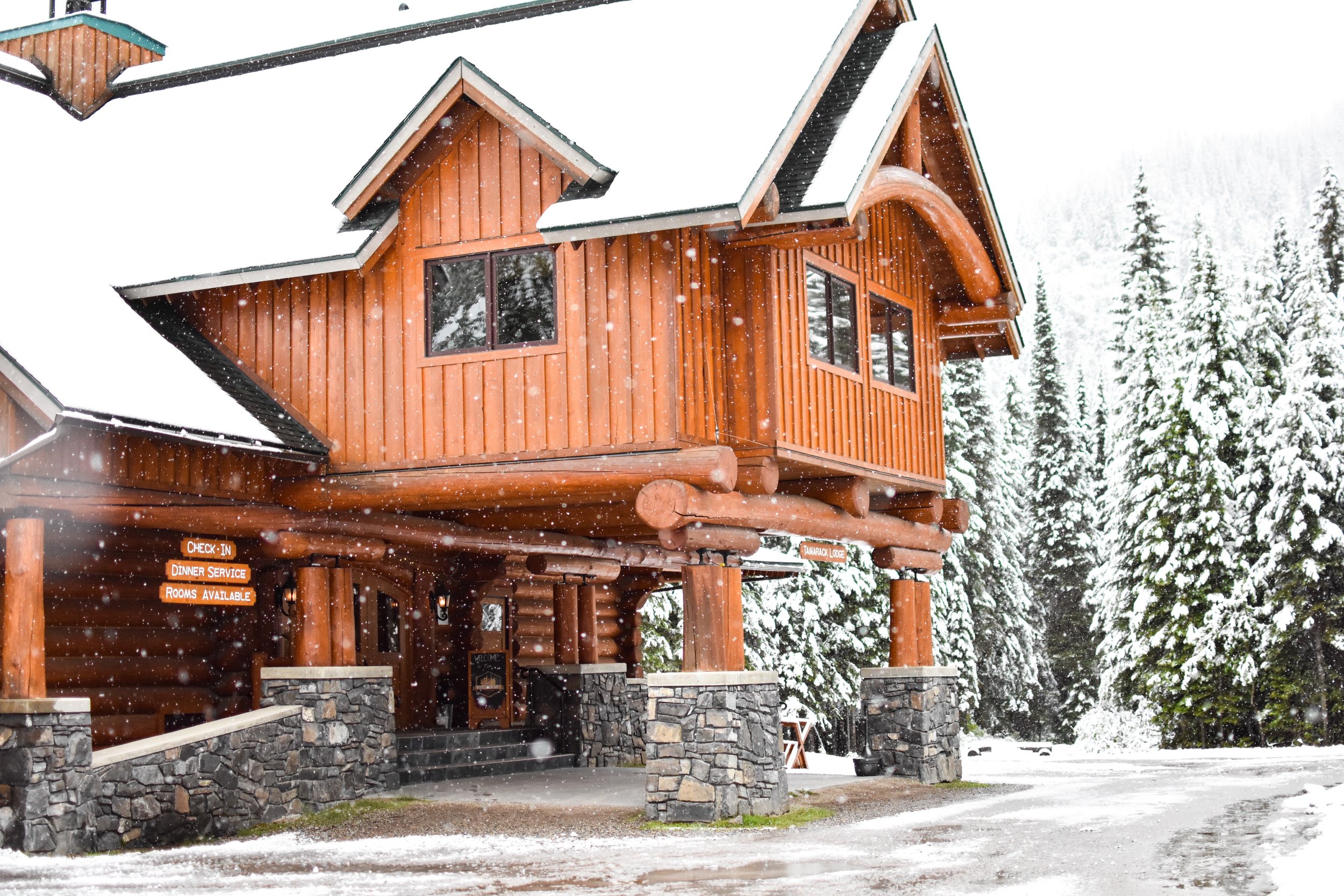 The following morning we woke up to quite the surprise. I had set an alarm for 6am planning to wake up, get ready and head for the lake. At 6:30am I opened the blinds, and my jaw dropped to the floor. Paul repeatedly asked what was going on and I was speechless. Just the night before, I was standing on the patio feeling the misty rain fall on my face, and what I now saw was inches of freshly fallen snow blanketing the trees and mountains ahead. The view was beyond breathtaking, and my excitement soared. We quickly got ready and headed for the Tamarack Lodge to grab life jackets and paddles for our now winter canoe ride.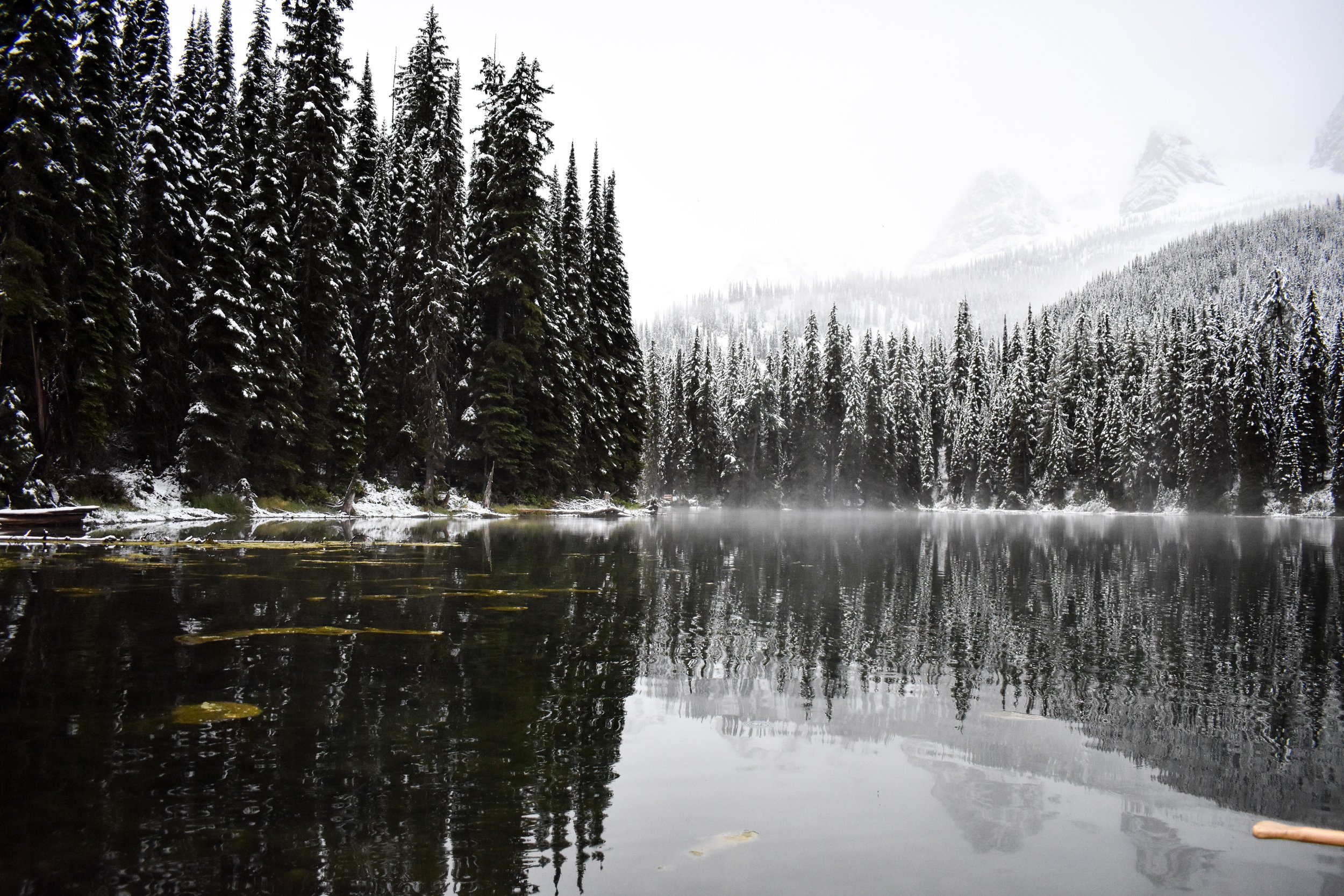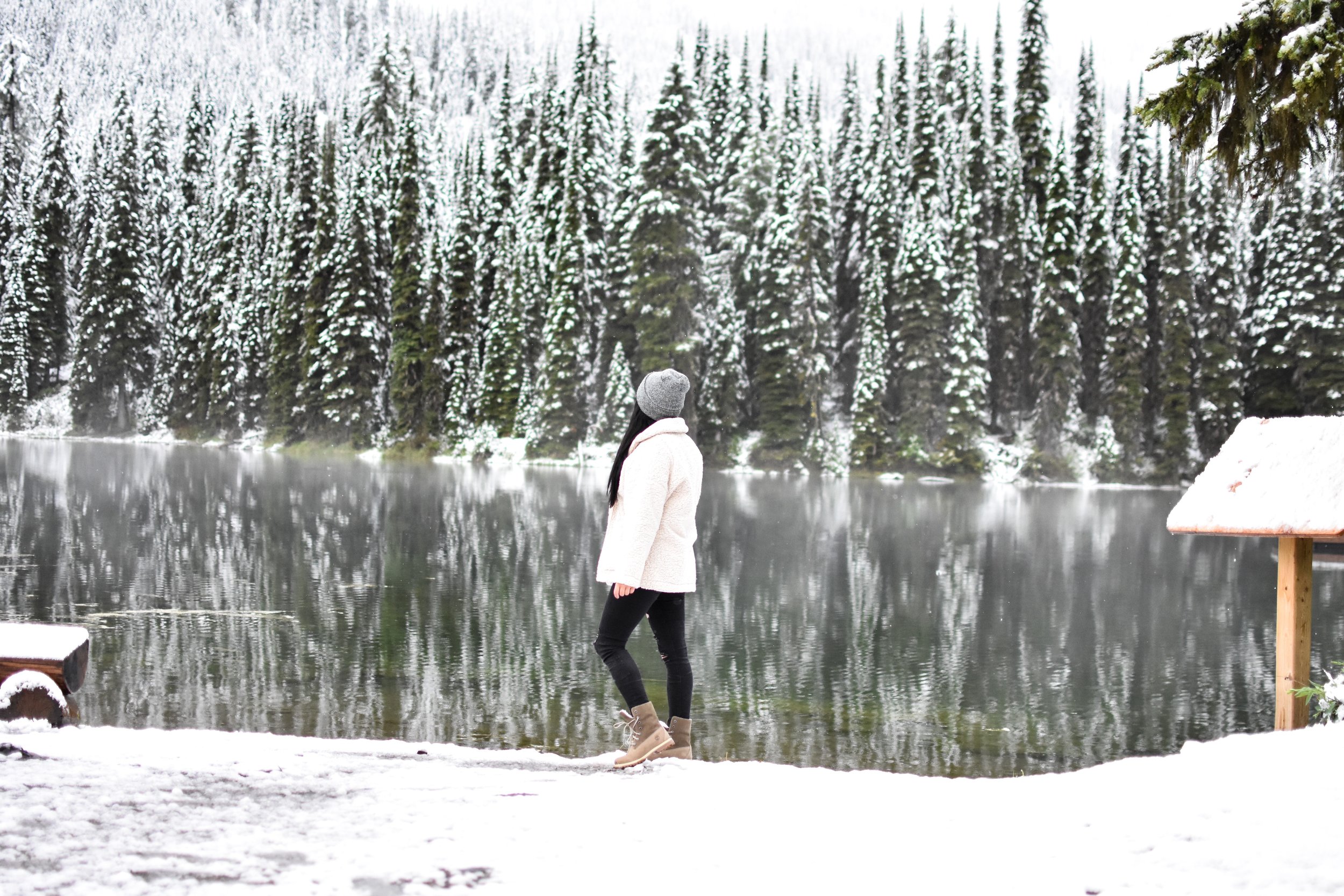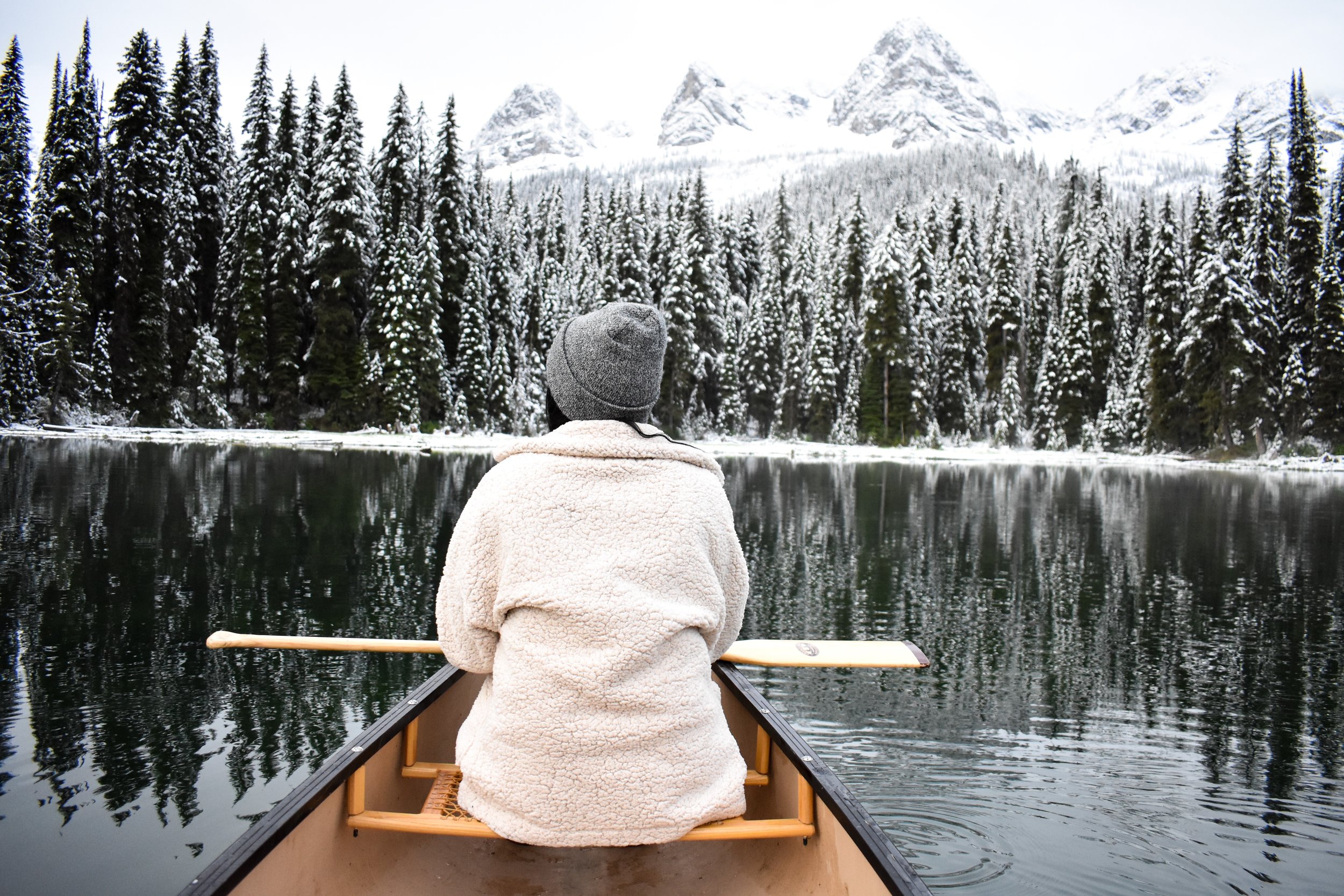 I think these photos speak for themselves. There was no moose, but I didn't care - it was warm, we came prepared, and I will never forget the views and experience of this morning. From the mist coming off the lake to the snow blanketing the tall trees to the mountains peeking out through the parting clouds, I felt like I was in a alpine snow globe and just attempted to take in every moment.
We finished our canoe ride and headed up to get breakfast at the Tamarack where we enjoyed a delicious meal and espresso watching a bald eagle high up in a nearby tree. I'm assuming it was trying to take in the views right along with us.
Next up on the agenda was the SPA - and what a spa it was. We headed downstairs in the Tamarack Lodge to a smell I wish my house had, exuding luxury and relaxation. I got into a comfy robe, having a lavender foot bath before heading into a private room to get a facial that set me up for relaxing the rest of the trip. Paul was next with a 60-minute massage.
While I was getting the facial of my dreams, Paul was out exploring the lake and came across this new friend of ours! I was going to see this moose for myself, just wait and see.
After the spa, we were feeling relaxed and ready to eat, so we made our way over to the Bear Lodge Bistro and shared a flatbread pizza and the soup and sandwich combo of the day(Prawn Po-Boy and Potato Leek Soup) which was my lunch time FAVE! I will link the menu here.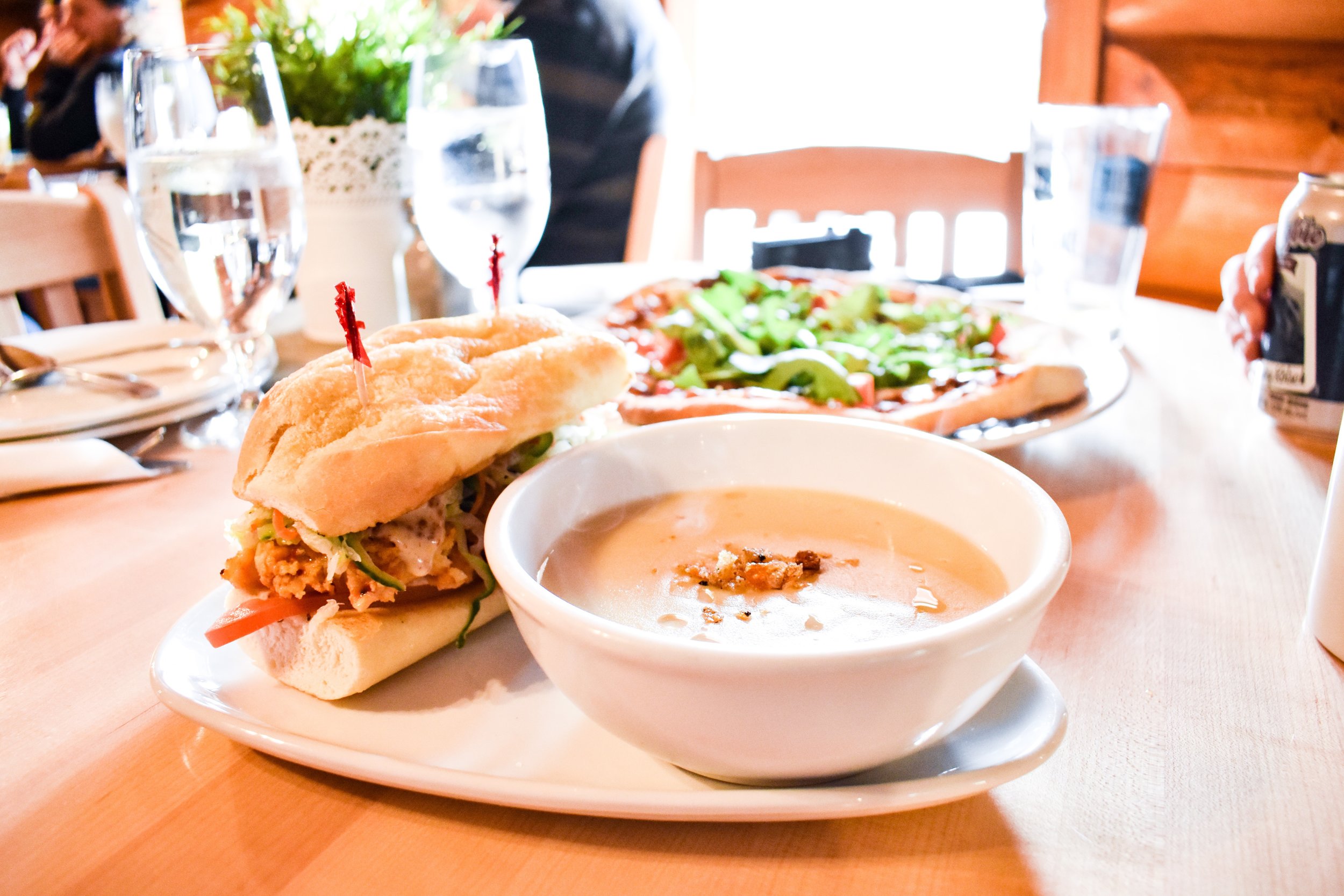 By mid morning, just as fast as it arrived, the snow on the ground was gone, and we went into the trees to explore. The views were stunning, we discovered the spot we should have gotten married at (I Dew point pictured below) and wandered the many paths located within this expansive property.
After much exploration, we headed back to our rooms to get all decked out for the amazing experience ahead - if you haven't experienced the Untamed Kootenays Culinary Event, check it out here, and enjoy the pictures of the incredible dishes we got to experience at this do not miss event. The five course meal was based around ingredients foraged from the surrounding area and it was truly incredible what was done with some unexpected items. See the cedar infused dessert pictured last for an example of the unique and flavourful dishes that were created.
We finished off the day at the Bear Lodge Bistro with a few new friends we met for cocktails before heading off for a few hours of sleep; alarms set for 5 am so we could get to the lake for the sunrise. I was hoping to encounter the moose for myself, and boy did I ever.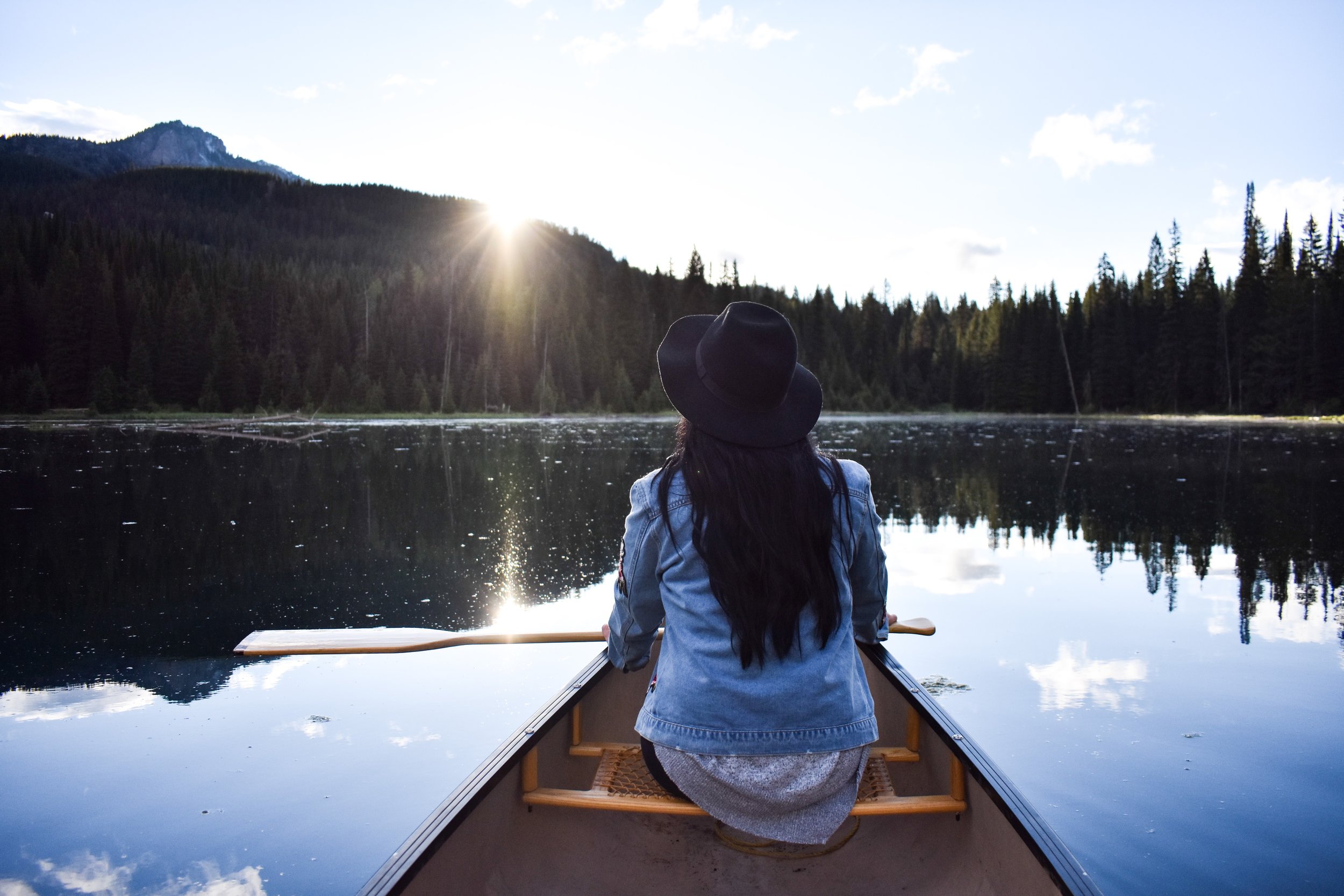 We got a little up close and personal to a moose, make sure you keep your distance and respect the animals territory, but what a magestic and powerful animal! We watched her walk along the shoreline, drink from the lake, and it was amazing.
Next, we headed to the spa once more before ending our amazing experience. We both had a lavandar foot bath side by side, then parted ways to experience a fantastic body scrub and 90 minute massage! Check out their spa menu here. If you go for any amount of time, make sure to try out their spa packages and spend some time in their luxurious saunas!
This weekend at Island Lake Lodge was life changing, and we came home feeling refreshed and rejuvenated, overjoyed to have found our new go to place for a mountain escape.
Note: our accommodations, meals and activities at the Island Lake Lodge were complimentary, but you guys know I would never promote a place or product I didn't love! I highly recommend this gorgeous mountain escape and look forward to my next visit at Island Lake Lodge!